The mats can virtually eliminate the chance of equipment becoming stuck or causing rut damage. Our uhmwpe heavy duty truck mats temporary roadways ground protection mats are made from UHMWPE composite material, they are an ideal solution to the expensive problem of repairing ground surfaces or repeatedly replacing expensive plywood sheets.Our uhmwpe heavy duty truck mats temporary roadways ground protection mats are easily support up to 180 tons and can be linked together to build temporary roadways, walkways, work platforms or parking areas.
Benefits:
1.Light weight 1/7th weight of steel,1/4 weight of Aluminuml , can easliy be handled by one person
2.Cost efficient Outrigger pads working life is very long. No pilferage Value,Price is cheaper.
3.Strong and steady uhmwpe temporary Roadways can load heavy compressure. Will not break or splinter .Retain their shape . Material has a memory ,dose not warp or mushroom.
4.Easy to clean when it is dirty, just use water to lean
5.Corrosion and Rust resistant
6.Can work in hot or very cold conditions
7.Zero water absorption
8.Do not conduct electricity
9.Every special size , shape ,design will be satisfied in QIYUAN
Ground protection mats have many uses in the construction industry both for ground protection:
1.Enabling safe access for vehicles and plant.
2.Protect existing block work, tarmac or grassed areas
3.Provide safe roadways and walkways over soft ground
4.Provide clean areas for material storage
5.Easy to handle, lay and move to new positions
6.Reduce costs for remedial work
Heavy Duty Road Mat (Composite Pressed Ground Mat)
Material: HDPE/UHMWPE
UHMWPE/HDPE mats as the temporary roads, avoid the damage to environment and roads, improve the work efficiency, reduce the effect cased on construction site.

Strong, easy and fast to thread
Helps push out mud and grit
Recessed connection to maintain low profile
UHMWPE connectors flex to aid connection particularly on uneven ground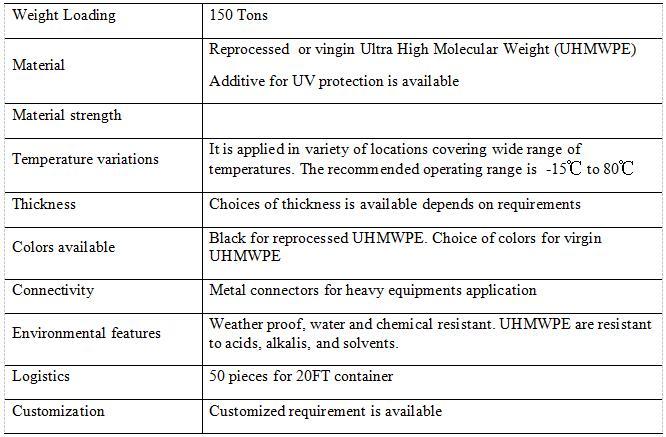 Advantages:
Ultra High Molecular Weight
Unique skid resistance surface
Tough durable working areas and temporary roads for heavy equipment and multiple vehicles
Protects against severe rutting and eco damage to ground and sensitive sites
Connection options for different terrain & equipment
Non-conductive-ideal for use on transmission projects
Lower transport unit area cost than other composite mats